Data analytics as a service (also known as outsourced analytics) is forecasted to grow at an exponential rate in upcoming years.[1] Here are the primary factors that market leaders deduct as the cause:
Online Retail: As more and more consumers look to online retail experiences as their primary purchasing outlet, there is a great need to track data related to consumers and sales.
Population Growth: The population globally is growing at an exponential rate. The increase in global presence, including markets like India and China, call for a higher demand in technology to support these groups.
Skilled Workforce: Given the skillset required to understand data and develop digital technology, it is predicted there will be a lack of a data skilled workforce in the market, thereby increasing opportunity for outsourcing.
Organizations find it time-consuming to manage the massive volume of data generated in a clean, incremental manner, and they often do not have the in-house experience to expand their analytic capabilities beyond reviewing their internal data sets. More and more companies are turning to experienced consulting firms, like SC&H, to enable smart, data driven business decisions within their organization.
In order to maximize decision-making utilizing the right supporting data, it is important to first understand the types of data that are available to businesses. Specifically, let us dive into what we refer to as a "hybrid" approach, which involves blending your organization's proprietary internal datasets with publically available external data, and leveraging the technical expertise of consulting firms on your journey.
Internal Data
Organization's data derived from internal systems (i.e. ERP, CRM, Data Warehouse, etc.) can provide valuable insights into their daily operations, customer trends, overall financial performance, and more. A huge advantage in relying on internal data is the availability in analysis and insights into specific company performance indicators not otherwise available externally. Conversely, if an organization solely looks at internal data to make informed decisions, they are not considering the possibilities or benefits of analyzing publically available data (and there is a plethora available) to compare their performance & success with their competitors in the marketplace.
External Data
Often seen in departments like marketing and advertising, external data can be critical in understanding your customers, competitors, and trends relevant to your industry. Data quality and wrangling are often the toughest task companies face when trying to tap into external data; this is typically the result of many varied & disparate source available and the frequency at which data is refreshed. It also can be difficult to identify what external data is truly impactful to a particular organization, considering there is so much available. However, organizations that take advantage of external data are able to draw correlations with market, consumer, or even weather patterns to make faster and more impactful decisions.
Hybrid methodology
A hybrid approach considers the blended utilization of both internal and external datasets; that is, take a look at your existing internal datasets and reviewing the plethora or publically available datasets out there that can help expand your existing data repository, allow your organization to dig deeper as it asks questions related to operational, financial, and market success.
SC&H recently leveraged Maryland's Department of Information Technology Open Data Portal[2] to transform Maryland Taxation & Assessment data (SDAT) into a dashboard allowing its viewers to see a geospatial market map by county with links directly to Maryland's Real Estate Property Search. Here is a sample look into the Dashboard we created: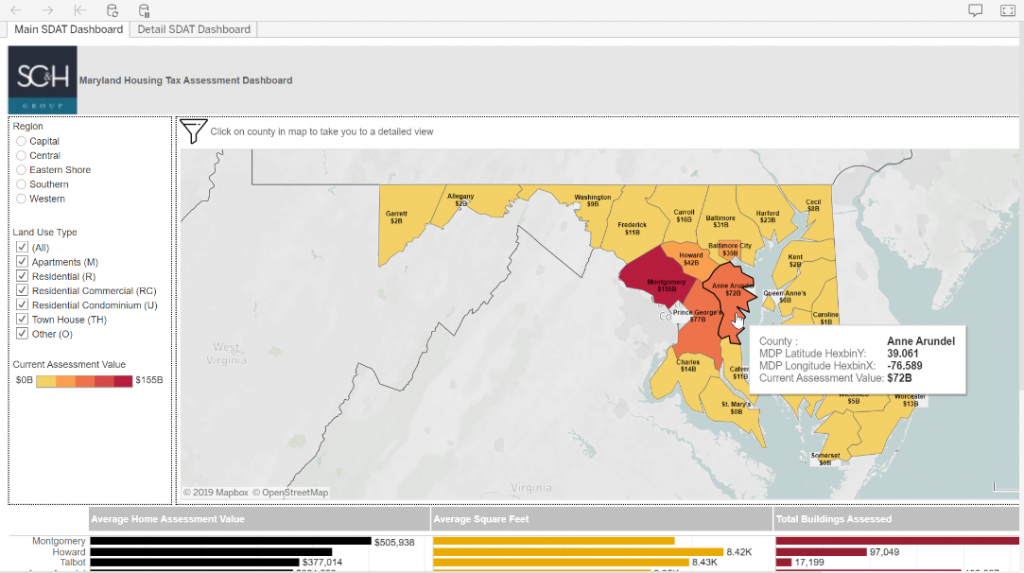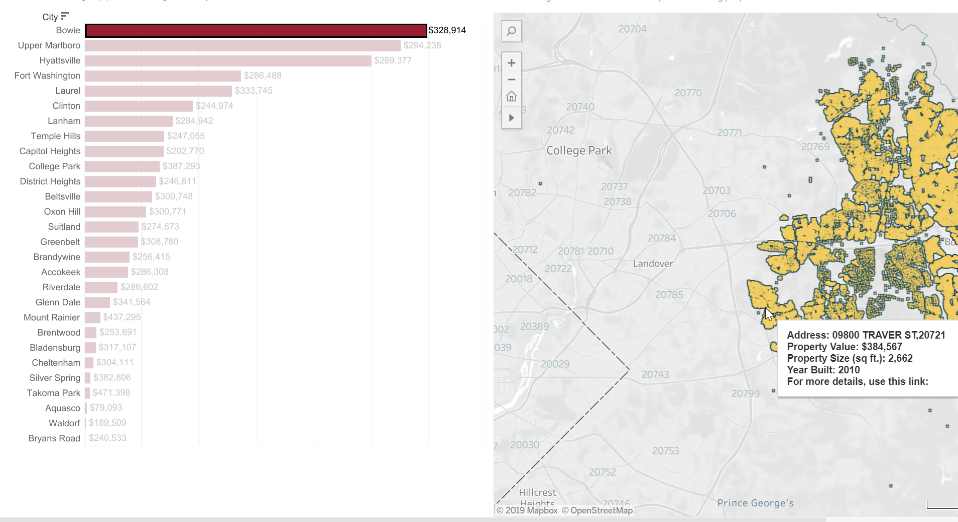 Many states have recently passed legislation that requires publically available data for businesses to access, providing a glimpse into the local landscape of business and consumers within their local jurisdictions. This is a great tool to prevent organizations from losing sight into their local competition and consumer profiles.
Our expertise
Of all approaches listed above, we recommend a hybrid approach as the most efficient way of obtaining insights from your data. SC&H's experience & understanding of combining disparate data sources and using industry leading technology & tools will help your organization reach is maximum potential in informed business decisions.
Does Your Organization Leverage OneStream?
If so, learn how to maximize your investment with a OneStream and Power BI integration.
Schedule a 1:1 Demo
[1] DATA ANALYTICS OUTSOURCING MARKET – GROWTH, TRENDS, AND FORECAST (2019)