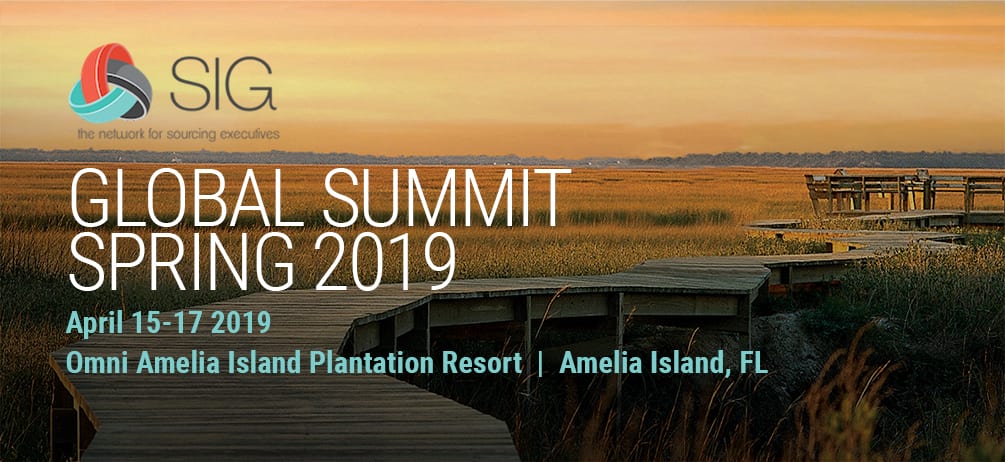 SC&H Group is excited to be presenting again at this years SIG Spring Global Executive Summit, a 3-day event that is packed with the latest best practices, cost-cutting strategies, innovative processes and risk-mitigation approaches. Through executive roundtables, keynote sessions, workshops, breakout sessions and networking events, you'll hear from industry thought leaders, discover the latest innovative trends and have the opportunity to network with like-minded professionals facing similar challenges.
Breakout Session: Maximizing Transparency in Supplier Contracts
Location: Magnolia F
Date: Tuesday, April 16, 2019 | Start Time: 10:35 AM | End Time: 11:25 AM
Speakers: Jimmy Weisner
About the Session:
Complex, global supply chains encompass a multitude of supplier/customer relationships. A recipe for a successful relationship is one where both the supplier and customer work towards the same goals and objectives as a partnership. Effective partnerships are based on accountability, agreed upon standards, and transparency. Blind trust is not a formula for success in partnerships because partners will question the unknowns. In procurement unknowns can be cost, profit margins, service levels, prepayments, staffing levels, etc.. The best way to ensure a successful partnership between customer and supplier is to put all the facts on the table with a well negotiated, transparent contract.
You will learn:
How to structure RFPs to get quality responses that are easily evaluated against each other
Why certain contract structures are more transparent than others
Where non-transparent profit centers exist in supplier contracts and how to eliminate them
How to reduce opportunities for price increases that do not correspond with cost increases
How an annual audit can nurture relationships, set expectations, and establish accountability