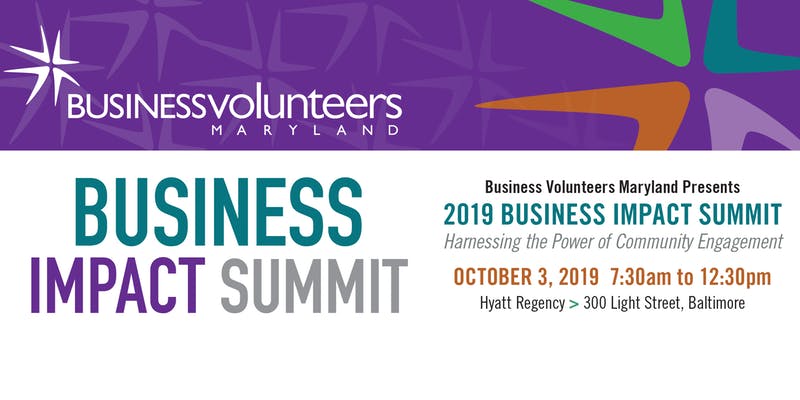 Business Impact Summit
October 3, 2019 @ 7:30 AM (EDT)

-

12:30 PM (EDT)


Hyatt Regency Baltimore
Event Navigation
Join Business Volunteers of Maryland and other business leaders at the 2nd annual Business Impact Summit and explore how to harness community engagement practices to accelerate impact on your business, your employees, and your community. While many companies today engage with and support their community, there underlies a tremendous opportunity for this impact to be multiplied both externally and internally.
Our Chief Marketing Officer, Mack McGee, will serve as a panelist to discuss "The Power of Promotion: Telling Your Story," along with Heather Darney, Senior Director of Community Relations and the Executive Director of the Ravens Foundation, Inc., and Adam Smith, Vice President, Communications and Public Affairs, Laureate, Inc. Effectively telling your community engagement story- internally and externally- can have a powerful impact on employee participation, recruitment, and brand in the marketplace.  In this workshop, learn how to effectively tell the story of your company's community engagement efforts from three companies who are widely known for giving back.
Additonally, Ron Causey, CEO, SC&H Group will join Kristin Kosmides, Head of CSR, Legg Mason, and Valencia McClure, VP, Gov't and External Affairs, BGE to discuss "Maxmizing Your Impact." Understanding how to build a strong community engagement plan with supporting models and processes is key to making your investment of employee time and dollars more impactful. Panelists will share clear strategies and paths for how they give back.
Register today and hear how an intentional approach to community engagement is a win-win, building not only a stronger community, but healthier employees and a more successful business.
Register Today