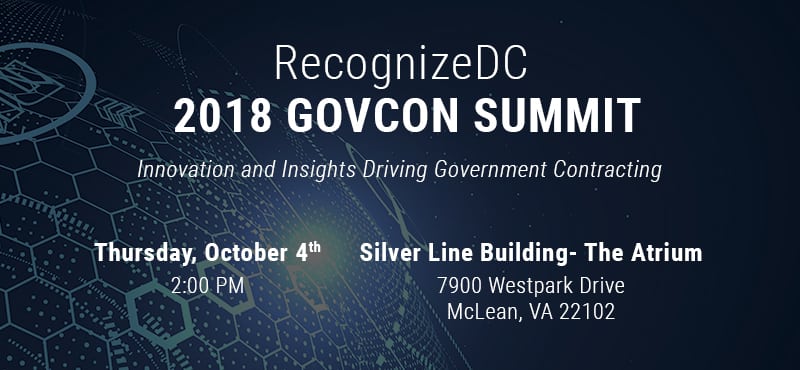 2018 RecognizeDC – Top Government Contractors
October 4, 2018 @ 2:00 PM (EDT)

-

8:00 PM (EDT)


Silver Line Building – the Atrium
Event Navigation
Join SC&H Group, Womble Bond Dickinson, and Spectrum Careers for an educational event October 4th in Tysons Corner, VA. Plan to build your professional relationships by attending educational sessions as well as a networking and awards event to honor the leadership of the top Government Contracting firms in the Greater Washington, DC area. Mingle with this group of Government Contract executives and their teams with great food, drink and conversation at this unique event in Tysons Corner, VA. DC's top leadership teams, C-level executives, investors, and many others are sure to make this a can't miss event.
2:00 pm – 2:45 pm – Registration
2:45 pm – 3:45 pm – The State of Government Contracting
3:45 pm – 4:00 pm – Break
4:00 pm – 5:15 pm – M&A Roundtable
5:15 pm – 8:00 pm – Cocktails & Networking
6:30 pm – 7:00 pm – RecognizeDC – Honors the leading Government Contracting Companies in a High-energy network awards celebration
ABOUT THE PROGRAM:
The GovCon Summit – RecognizeDC Celebration is the premiere fall awards program that recognizes 30 government contracting companies and their contributions to the local economy and the marketplace, as well as their impact, innovation, vision, and focus on veterans. Government contracting is the leading industry for the DMV. The program's goal is to recognize the meritorious virtues of government contracting companies striving for excellence in their communities through mentorship, economic growth, passion for country in this intricate and ambitious industry.
Register Today